Mold Removal in Pittsburgh
Mold infestations can turn an otherwise safe and healthy property into a dangerous environment for anyone who spends any time inside of it.
Usually, water damage in Pittsburgh plays a significant role in the formation of a mold infestation, because, like any other living thing, mold spores need water and food to grow.
911 Restoration of Pittsburgh are experts when it comes to mold removal and they understand that in order to completely get rid of an infestation, proper water damage restoration needs to also be administered.
The mold removal professionals are IICRC certified and licensed, bonded, and insured for your protection, because we want to provide you with the peace of mind you need during these situations.
When you reach out to the mold infestation technicians we will provide a free visual inspection to property owners, including an estimate, in order to make sure you know exactly what is going on in your property before any work is administered.
Along with mold removal and water damage restoration services, the Pittsburgh team will conduct sampling and testing of the mold spores in order to determine exactly what species is growing inside of your property.
Turning your home or business into a safe environment for your family and employees is the most important part of any mold removal job, so give us a call today.
Water Damage Restoration Can Prevent Mold Growth
If there is water damage in a property and it is left to sit for even just 24 hours it can spark a mold infestation. Within two days, mold spores can flourish inside of a home or business, causing property owners to seek out mold removal services.
By seeking out water damage restoration services immediately upon its discovery then property owners can prevent mold issues from arising. This includes even minor issues, such as dripping pipes or leaky air conditioning units.
The condensation that forms underneath a sink or inside of a wall can easily turn into a rampant mold infestation, especially since these places are completely out of sight, giving the mold more time to grow.
The team in Pittsburgh is trained to implement water damage restoration and mold removal services in both commercial and residential properties, so whether you own a home or a business you can trust in our remediation abilities.
911 Restoration of Pittsburgh is locally owned and operated, making the mold removal team completely in tune with what the community wants and needs. So, give us a call the moment you notice any sign of water damage or mold in your property.
Mold Infestations May Lead To Health Issues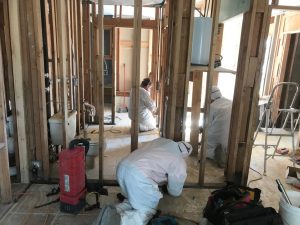 There are thousands of different mold species in the world and some of them can be detrimental to your health when you are exposed to the spores on a regular basis.
Many people can be allergic to mold spores, whether they are benign or not, so when you breathe them in you can begin to feel symptoms that are similar to seasonal allergies.
If you notice that you experience itchy eyes, coughing, sneezing, wheezing, and skin irritation when you are inside of your home or business, then most likely you have mold lurking somewhere inside of your property.
The mold removal team will take samples of the mold they find growing in your property and have the spores tested at a third-party laboratory. This will allow us to figure out exactly what mold species you have been living with and determine what actions need to be taken.
If the mold is found to be malignant, such as black mold, then it may be in the best interest of your health to leave the premises until all of the mold is eradicated from the property. Regardless of the type of mold, Pittsburgh professionals are qualified to clean up the infestation and implement any water damage restoration needed to prevent any future growth.
So, call the water damage restoration technicians and they will dry and dehumidify your property to make your space a safe, mold-free zone for you and your family.
Serving the communities of Carnegie, Mc Kees Rocks, Pittsburgh, Allegheny County and surrounding areas.