Mold Removal in Carnegie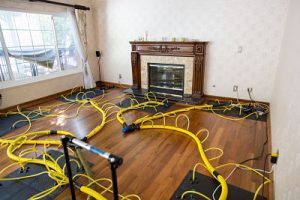 As a property owner in Carnegie, chances are you have run into property damage a time or two. One of the hardest to stay ahead of is mold contamination. Mold can grow right under your nose for weeks if not months before you're aware of the problem. During that time, the drywall and furniture are suffering and the residents within the property are suffering health issues like headaches for seemingly no reason. That's why our IICRC certified technicians are standing by 24/7/365 to handle your mold remediation needs along with any needed water damage restoration. No matter if you live in Carnegie, Pittsburgh, or another city in the Pittsburgh area we guarantee to arrive within 45 minutes of your call ready to start on your mold removal.
While mold is definitely sneaky, it can be protected against as well as detected early if you know what to look for on the property. That's why we're offering a brief breakdown of the signs of a mold infestation. These common signs include:
Rotting wood

Crumbled drywall

Visible mold

Breathing problems

Headaches

Persistent cough

Stale odor
Keep in mind that handling the mold removal yourself is the very last thing you want to do with a mold infestation. Normal cleaning methods and cleaners are not only ineffective but are harmful. All that happens with cleaning is agitated mold spores. These agitated spores become airborne and spread to other areas of the property making an even bigger problem for you to resolve. That's why the only true solution is professional mold cleanup.
Once you suspect or observe mold, call 911 Restoration for assistance. Our IICRC certified technicians will take care of the residents of Carnegie and deliver a Fresh Start you can count on.
Mold Remediation Professionals
Being considered mold remediation professionals is more than just throwing commercial grade chemicals at the mold and wiping it away. Mold requires a concentrated effort to not only remove the mold, but keep it from coming back. At 911 Restoration, we have combined our years of experience with ongoing training to develop and hone our mold remediation process to perfection. Everything from mold decontamination to mold cleanup is handled exactly when and how it needs to be to result in a successful mold remediation.
We always start with our visual mold inspection before unloading the equipment. This inspection is done so we know how far the mold has spread, how to contain it properly, if it's toxic, and finally what repairs need to be addressed before the job is done. Once we know those answers we can develop an action plan that guides us through the process.
With the action plan, we move on to mold containment. By using the latest containment measures, which include vapor barriers we can keep the mold from reaching other areas of the property while we work to remove the mold. After containment is achieved, we proceed to begin our mold decontamination process. During this step we use industrial cleaners and detergents to neutralize the mold spores making them ready for the final step, which is mold removal. During this final step, we also address any needed water damage restoration. Doing so ensures we're not coming back two months later for the same problem.
If you need mold cleanup services then call 911 Restoration. We'll be there within 45 minutes whether you're in Carnegie or another city in the Pittsburgh area to deliver a Fresh Start you can believe in.
Black Mold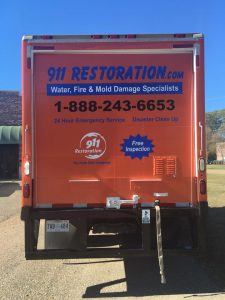 Sometimes regular mold can become toxic. This usually happens when it's allowed to grow for a long period in excessively dark and damp environments. In addition, if the water is contaminated with anything from dirt to raw waste, the chances of toxic mold goes up dramatically. Since the basement and attic contains numerous pipes, the chances of a leak or pipe burst are high making for a multi-phase problem if not addressed quickly.
The most common toxic mold is black mold, which can cause organ shutdown and even death in some cases. Your health is a serious matter to our technicians, which is why mold testing services are offered when toxic mold is suspected. With toxic mold, we use a two-phase mold decontamination process that ensures every single trace of mold is eliminated and removed from the premises.
If you suspect toxic mold or just need mold removal call 911 Restoration. Everything from mold inspection to mold cleanup is a call away. Get the Fresh Start you need to move forward.
Servicing the cities of Carnegie, Mc Kees Rocks, Pittsburgh, Allegheny County, and surrounding areas.