Mold Removal in Allegheny County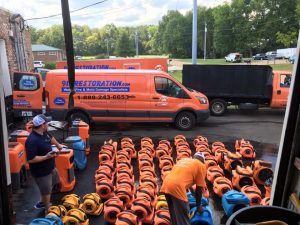 Being a property owner in Allegheny County comes with a lot of responsibility. One of those responsibilities is to deal with different types of property damage. Possibly the hardest one to protect against is a mold infestation. Mold is subtle and grows over time. This means it can take months for a person to notice there's a problem. Meanwhile, during that time, the mold is eating away at the organic materials on the property while causing health issues at the same time. That's why our IICRC certified technicians are ready 24/7/365 to assist you with your mold remediation. Whether you live in Allegheny County, Pittsburgh, or any other city in the Pittsburgh you can count on us to arrive ready to get to work on your mold removal within 45 minutes of your call.
The best way to protect yourself is to know the signs of mold contamination. Once you know the signs, it's fairly easy to stay ahead of the problem. Some of the most common signs of mold include:
Rotting wood

Crumbled drywall

Visible mold

Breathing problems

Headaches

Persistent cough

Stale odor
Keep in mind that mold removal shouldn't be done by you. Normal cleaners and cleaning methods are ineffective and actually cause more problems than you started with. The cleaning only agitates the mold spores, which causes them to become airborne. Once airborne, they can create new mold colonies. That's why the only full solution is professional mold remediation from IICRC certified technicians.
If you suspect or notice mold on the property, call 911 Restoration immediately. Our technicians are standing by to assist Allegheny County residents with their mold remediation needs. Don't wait to get the Fresh Start you deserve.
Mold Remediation Professionals
Any mold remediation professional can get the job done. However, the real question is, "Can they get the job done correctly?" At 911 Restoration, our IICRC certified technicians have honed the mold remediation process to nothing less than perfection thanks the years of experience and ongoing training they have. Everything from mold decontamination to mold removal is handled with the expertise you need to move forward.
The very first thing we do is perform a visual mold inspection. We do an inspection before unloading any equipment so we can better understand how far the mold has spread, if the mold is toxic, how to contain the mold, and what damages may need repairing. After we have our answers, we can execute our action plan once it has been approved by you.
Once approved, it's time to get to work on your mold removal. The first step is containment. We need to prevent the mold from spreading and do so by using the latest containment measures, which include vapor barriers to get the job done. After containment is achieved, we can move on to mold decontamination. The objective is to kill the mold spores. This is accomplished with industrial strength cleaners and detergents. After this step is completed, we are ready for the actual mold removal. During this time, we also address any water damage restoration needs to make sure the mold can't come back later on.
As soon as you suspect mold, the first step is to call 911 Restoration. We'll arrive in 45 minutes for our Allegheny County customers to work on your mold cleanup. Call now to get the Fresh Start that has you breathing a little easier.
Black Mold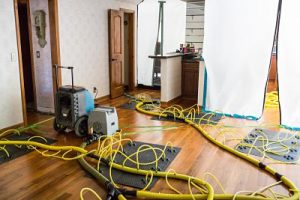 Of the different kinds of mold that exist, black mold is the most dangerous one to come across for property owners. Black mold usually appears due to extreme conditions that are still too common to be comfortable. It's no secret that mold thrives in environments that are dark and damp such as the basement or attic. However, the mold can become black mold if left alone too long, or if the water causing the mold growth is contaminated with dirt, debris, or even raw waste.
Not only does black mold eat away the property like regular mold, but it also causes severe health problems regardless of allergies. Some of the most troubling reactions are organ shutdown, and in some cases, death. Your health and wellbeing is a serious matter, which is why we offer mold testing services in addition to our regular mold inspection. If black mold does exist on the premises, we don hazmat gear while proceeding with a two-phase mold decontamination process. One round is done before the mold removal, and the second round occurs after mold removal is complete. 
Call 911 Restoration promptly if you suspect black or any other toxic mold. Everything from mold decontamination to mold cleanup is just a call away. Don't wait to get the Fresh Start you need.
Servicing the cities of Brookfield, Burghill, Campbell, Canfield, Cortland, Fowler, Girard, Hubbard, Leavittsburg, Lowellville, Masury, Mc Donald, Mineral Ridge, New Middleton, Newton Falls, Niles, North, Jackson, Southington, Struthers, Vienna, Warren, Youngstown, and surrounding areas.