Disaster Restoration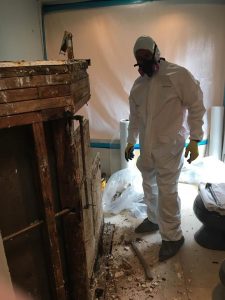 There are different types of disasters that a property owner needs to be wary of. Some are natural and others are man-made, but both can cause water damage and structural issues that require professional remediation services to repair.
911 Restoration of Pittsburgh guarantees to get their disaster restoration experts to your home or business within 45 minutes of receiving your call, no matter what time the disaster occurs. The Pittsburgh branch is open 24/7/365, so you never have to hesitate to reach out for help.
Upon arrival, the disaster restoration unit will provide a free visual inspection to property owners. This inspection includes an estimate, so right off the bat, everyone involved in the water damage restoration will be on the same page.
The Pittsburgh branch is locally owned and operated, making the disaster restoration technicians completely in touch with what property owners in the area want and need.
Call 911 Restoration of Pittsburgh when you are in need of highly trained technicians to provide you with the peace of mind you need to successfully move on after a disaster impacts your commercial or residential property.
Tornadoes And Flood Damage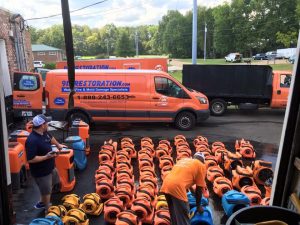 It is common for tornadoes to touch down in Pittsburgh, bringing pounding rain and violent wind to the community. Tornadoes can rip roofs off of homes, uproot trees, and down power lines, requiring professional water damage restoration services.
One customer called the disaster restoration unit after a tornado had ripped through his property. His ranch house flooded due to the heavy rain, leaving the customer in need of both water damage and structural repair services.
The tornado damage was significant enough to require the removal of the furniture and possessions from the property while the disaster restoration took place. Our crew provided the emergency pack out and storage services the customer needed to make this possible.
The Pittsburgh repair workers were able to provide the emergency water removal services that the customer needed to fully recover after the tornado. The tornado had also flooded his basement and we were able to extract the water and use fans to dry out the water damage.
Call 911 Restoration of Pittsburgh when your property is affected by a tornado or any other disaster and our repair workers will make sure you receive the fresh start you deserve.
Around The Clock Disaster Restoration Service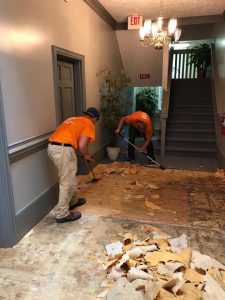 When dealing with water-based disasters, such as tornadoes and floods, it is imperative to seek out water damage restoration services that can be implemented immediately.
911 Restoration of Pittsburgh is available around the clock to provide you with emergency water damage Pittsburgh works right when you need it. If your property is impacted by a flood in the middle of the night you can contact us with confidence knowing that someone will be there to take your call.
Acting fast is imperative in situations involving water because the longer water sits on the surfaces of your property the more damage it will create.
Pittsburgh mold inspection is one of the main problems that arise from floods and leaks, and the only way to stop an infestation from growing is by extracting all the moisture from the property. The disaster restoration experts are trained to address any mold issues they find while conducting the cleanup effort.
Call 911 Restoration of Pittsburgh when you are in need of immediate disaster restoration services and we will show you how much our team genuinely cares and understands your needs.
Serving the communities of Carnegie, Mc Kees Rocks, Pittsburgh, Allegheny County and surrounding areas.