Commercial Water Damage Restoration in Pittsburgh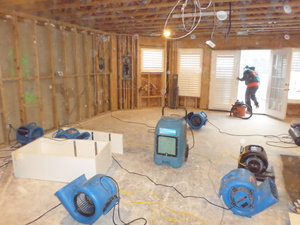 Pittsburgh is a fantastic city to open up a business in. With a tight-knit community, year-round events, and numerous tourist attractions, there are always opportunities in Steel City! However, disasters can strike commercial property owners at any time. Whether it's a flood or flames from a fire, seeing your business destroyed can be stressful and scary.
That's why 911 Restoration of Pittsburgh is available around the clock to assist local business owners. We're industry experts who can quickly and efficiently repair and restore your damaged building. Whether you need water damage restoration, mold removal, or fire damage restoration, our team can help. We're a licensed, bonded, and insured company that serves Pittsburgh property owners. Our specialists are available 24/7/365 and will be at your location within just 45 minutes of your first phone call to our office. If your commercial property has been damaged by a disaster, contact 911 Restoration of Pittsburgh now!
Rapid Water Damage Repair in Pittsburgh
One of the worst things that can happen to a business owner is having indoor flooding destroy your commercial property. Not only will water negatively impact your building, but it can ruin your inventory.
If your commercial property has been struck by water damage in Pittsburgh, call the professionals at 911 Restoration of Pittsburgh now. We offer free visual inspections for property owners only and will quickly find the root of the problem. Whether it's a pipe burst, ceiling leak, or sewage backup, our technicians will swiftly put an end to the flooding. After that, we'll get to work packing up your inventory to protect it from further damage. When you partner with 911 Restoration, you'll receive:
45-minute arrival time, 24/7/365

A free insurance consultation

Complete water damage restoration

Compete drying and dehumidifying

Carpet water removal

And a Fresh Start!
Never ignore an indoor flood. The longer you prolong the cleanup effort, the more damage your business will suffer from. Water damage isn't the only cause for concern. A flood can also create a breeding ground for mold and mildew. In fact, mold testing Pittsburgh will start to grow only 24 to 48 hours after the flood started.
Nobody wants a mold infestation ruining their business. Mold will eat away at any surface It grows on, weakening the structural integrity of your commercial property. It will also cause your business to smell musty and create unsightly yellow and green stains on your walls or ceiling. Moreover, mold can be a health hazard. Mold exposure can cause coughing, sneezing, wheezing, and other respiratory issues. You don't want to put yourself, your staff, or your customers in jeopardy.
If you need mold removal services, call 911 Restoration of Pittsburgh now. Our IICRC certified mold remediation experts can quickly remove each and every mold spore from your property. With 24/7/365 availability, we'll be at your location within 45 minutes. It doesn't matter if it's night or day. We're ready to assist you.
Pittsburgh's Local Fire Damage Experts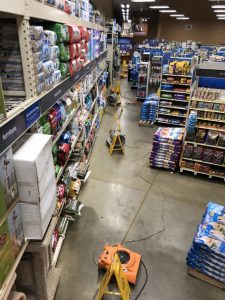 Water damage isn't the only thing commercial property owners should be worrying about. A fire can ruin your business and cause fear, anger, and stress.
If your commercial building caught fire, contact 911 Restoration of Pittsburgh today. After the fire department has put the flames out, we'll get to work. Our crew will remove all of the soot, smoke, and ash from your building. We'll also get rid of the odors that were caused by the fire.
When you receive fire damage restoration from us, you'll be getting service from a company that cares. 911 Restoration of Pittsburgh is dedicated to helping you during this difficult time. Our technicians will assist you every step of the way and explain what we're doing so you're never left in the dark.
A Fresh Start in Pittsburgh
Pittsburgh business owners deserve a dedicated, professional company when disaster strikes. In order to receive the best services possible, contact 911 Restoration of Pittsburgh now. We're available 24/7/365 to help you when times get tough.
We offer a Fresh Start approach to every water damage restoration job we do. This ensures you get the support and customer service you need during this stressful situation. We'll help you restore your business and see the positive in this trying time.
For all of your water damage restoration needs, contact 911 Restoration of Pittsburgh now. We're standing by to help you!
Serving the communities of Carnegie, Mc Kees Rocks, Pittsburgh, Allegheny County and surrounding areas.