Winter Storm Safety Tips – Mitigating Risks of Disaster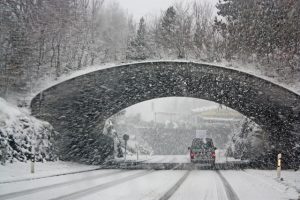 Each year, hundreds of people are injured or killed because of exposure to the cold and unrelenting circumstances of a winter storm.  The cold leads to several problems, from wintry roads to fires caused by the improper use of heaters. If you hear your local network air out a sign of blizzards or winter storms, you should hunker down and take in some safety tips.
There are many ways that you will need to protect yourself in a winter storm. Not only is it about your life, but it's also about your family's safety, your home, and many other things. A winter storm is not easy for you to weather all on your own. Thus, we have listed some of these ways to prepare for a winter storm.
How to Prepare for a Winter Storm
Protect Your Family
If you live in a region where winter storms or blizzards are fairly common, then you must have a talk with your children about protection against the weather as soon as possible. Prepping your children for winter storms ahead of time helps them have an itinerary of things to do when danger hits. It helps reduce their fear and puts them into action instead.
Transportation and vehicles are some of the most difficult things for you to manage during these difficult times. You have to keep your vehicle winterized before the storms so that you can decrease your chances of getting stuck in the cold. Emergency services generally can't make it out to your place when there's a blizzard, so the best thing to do is keep your car for any run-in with the cold.
You should have a mechanic checking in your battery, antifreeze, wipers, and windshield washer fluid to keep your car running. The mechanic will also be checking your ignition system, thermostat, lights, flashing hazard lights, exhaust system, heater, brakes, defroster, and oil.
A big part of winter also can drive in snow. You should make sure that your car has good winter tires and an adequate tread that can help your travels in the snow. Regular weather tires are fine. However, some places require that you have chains as well as studs on your tires.
You should also keep a small scraper and small broom in your car so that if you get stuck in the snow, there are ways for you to remove the snow. As soon as the harsh weather comes in, you should also store several warm clothes in your trunk.  It's also necessary for you to keep your tank full so that you can leave in the middle of the night if your county informs you to evacuate the town.
Protect You Animals or Pets
If you have any pets or animals around, you should bring them in. If you have companion animals like cats or dogs, you should place their entire setup indoors. These animals are unlikely to survive a blizzard, so make sure you have a room dedicated to their needs. You should also have supplied so that you can clean up all their mess inside. The supplies you may need are large paper towels, plastic bags, and extra cat litter.
You should also stock up on cat and dog food. Additionally, you should ensure you have the medicine your pets need. If you have farm animals like horses and livestock, you should attempt to keep them in the barn, which you've made for them. If you don't have a place to keep your horses, then you should have one constructed on your property before you buy a horse of sheep.  Grazing animals should have supplies for unprotected food.
You should also ensure that these animals have access to higher ground if the snow or ice melts and there's flooding. You shouldn't have any barriers or the sort so they can relocate to a higher place all on their own. The building you have in place for animals should be strong enough to handle any wind, heavy snow, or ice. If you live in a rural area, you should place some fencing around your property so that your livestock doesn't go too far.
Protecting Your Home
It's imperative that when there's snow, you should protect pipes from freezing. If your pipes are frozen, you won't have access to water. This fact can immediately cause a great deal of trouble for you. Additionally, the snow means that you have your heating in full blast, thus ensuring that you install your heating equipment in the best way possible.
Insulation is a big part of ensuring you're safe. Go around to all your windows and doors and check that they're properly insulated. Caulk and weather-strip doors tend to keep the cold air out. You can also install storm windows or apply another layer of insulation from the inside to keep the cold air out.
You should also try to keep yourself as warm as possible within your home. So ensure that you have some heating equipment in your home. If you have a fireplace, you can also stock up on wood so that you can keep yourself warm inside. You should also check for any leaks or holes in your roof before the storm season arrives.
For more information on winter storms and how to protect your family, please visit us at www.911restorationpittsburgh.com.