The Importance of Blood Clean Up – The Importance of Biohazard Clean Up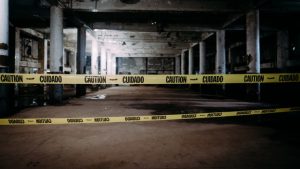 The aftermath of a terrible crime, major incident, or unexpected death sometimes falls to us after the paramedics and police have left the crime scene. Unsure of where to begin, we may reach for a bucket of water and mop, as well as an enormous amount of bleach.
Any leftover biohazards or structural damage might cause problems at crime scenes which is why it is better to call a professional biohazard cleanup service to safeguard your health and safety. Professionals are better qualified to handle potentially dangerous biohazards and ensure that the affected area is safe for you and your loved ones to return to after cleaning up such a place.
Importance of Biohazard Cleanup?
1.     Safeguard Against Blood-borne Diseases
As our knowledge grows regarding the dangers of blood-borne infections and other diseases conveyed by bodily fluids, it becomes clearer how important it is to have a proper biohazard cleanup after the mishap and not handle it ourselves.
Only individuals who are adequately trained and equipped to handle biohazardous material should be assigned to clean up the trauma scene. Staph, C. diff, and MRSA are among the illnesses that can be transmitted through blood and other bodily fluids. Cleaning up a situation without suitable protective gear or properly removing pathogens could expose those cleaning up the scene and anyone returning to the place after that to these diseases.
2.     Protection From Chemical Toxins
Opting for biohazard cleanup to shield yourself, your loved ones, and your property against harmful chemicals and potentially dangerous problems are important. However, the cleanup may involve the use of potentially hazardous chemicals and contaminants to clean the site properly.
But those chemicals can be very dangerous or even fatal if not handled or cleaned carefully. This is why it is important that you use a biohazard cleanup service that has trained workers capable of identifying, using, and properly disposing of hazardous materials and waste that could cause harm to you, your family, your property.
3.     Prevention From Legal Action
Leaving a crime or accident scene uncleaned can result in long-term health risks for you and anyone who lives nearby or visits your place. These contaminants can pose substantial health risks for a long period. Beyond causing illness, biohazard wastes left untreated can encourage the growth and spread of mold and bacteria, placing residents of the property at risk for long-term health issues.
If you clean the area up yourself, then you will be held answerable to the legalities.  However, if there is any disease outbreak or infection as a result of the cleanup crew's failure to clean the designated area adequately, the cleanup service will be held legally responsible.
4.     Save Money and Time
Even if cleaning services are not inexpensive, they are surely worth the money spent on them, regardless of the cost. A professional team will not only save you time, but it will also save you money compared to doing it yourself. This is because obtaining professional-grade cleaning equipment and cleaning solutions is not possible for common people, and even if you could, it would be a very expensive task.
Professionals in biohazard cleanup, on the other hand, deal with incidents like this virtually every single day. In the event of a peculiar incident on your property, they have the skills, experience, and equipment to ensure a speedy cleanup. A biohazard cleanup company saves you a lot of time, which you would not be able to save by doing the cleanup on your own.
5.     Ensure Proper Cleanup
The job can also take several days, weeks, or even months to complete. If you do not hire a professional, you will not only waste time, but you will also be unable to clean up fully. It can take a long time to clean up a trauma scene, which is not ideal for your family or your business since you will already be handling a traumatizing situation.
To conclude, you never know when you could face a bizarre situation and will be in need of a biohazard cleanup service. Cleaning up biohazards at a crime scene is an unavoidable need, and it would be best if you never attempted to clean up after a crime scene without the right training, tools, and equipment. If there are cases of illness as a result of incorrect biohazard cleanup, you could be held liable.
Pathogens can be spread through the blood and body fluids under such situations; therefore, you should never attempt a biohazard cleanup as a do-it-yourself cleaning project – you will do more harm than good if you do it yourself.
911 Restoration of Pittsburgh
A biohazard cleanup company like 911 Restoration of Pittsburgh can help you get through this difficult time. We are available 24/7 for your service and are just a call away when you need assistance. Our biohazard cleanup professionals have a wide range of experience and talents at their disposal. Their specialties include hoarder cleanup, car blood removal, meth lab cleaning, mold remediation, and crime scene cleanup. They are equipped to handle a wide range of situations requiring professional vigilance and skill. We empathize with our customers' needs and arrive at crime scenes immediately.