Which Areas Are Most Susceptible to Floods?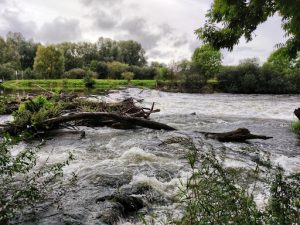 Flooding is a common natural disaster or environmental hazard people face worldwide. It is usually the result of low-lying coastal areas and river flood plains distributed geographically across several countries.
This article aims to highlight the areas most susceptible to floods and what you can do in terms of flood damage restoration. 
What Is A Flood?
Even though it is difficult to exactly describe a flood, it is largely considered overflowing water onto dry land. Therefore, excess levels of water covering any dry area of land where water is not supposed to be can be considered a flood.
Flood Categories
Floods can be simply categorized into two sections – river floods or coastal floods. Coastal floods are usually the product of a storm or a tropical cyclone, while river floods are atmospherically urged due to excessive rainfall. River floods can also be a result of landslides and levee failures.
Areas Most Susceptible to Flood
Considering the causes and types of floods, it is pretty easy to determine that some areas are more susceptible to floods than others.
The Flood Highs & Lows
Generally, flowing water can move from the higher ground towards any lower ground. This means that if a lower ground is adjacent to any higher space is, flowing water is likely to flood them.
High Precipitation Areas
There are several areas scattered across the globe that experience heavy rainfall around the year. Since they experience more rain compared to other parts of the world, they are more susceptible to floods with high precipitation; the soil of these areas can easily absorb or drain water which is why these lands have flood potential.
Unauthorized Construction 
In some cities, unauthorized buildings and skyscrapers are being built to accommodate other economic needs. However, a crucial thing to understand here is that some of these buildings are constructed in waterways. While some buildings also choke drainage systems which are an essential part of flood drainage. This is dangerous because, with high precipitation, the water will not be able to find a way out. This will result in flooding and submerging anything that falls below the water level.
Low-Lying Plains
Plain low-lying areas adjacent to a lake, river, or lagoon are also susceptible to floods. They are more at risk when the water level rises, so it is not smart to construct property there. These low-lying areas also include shorelines and coastal areas because seawater can be brought inland with tsunamis, strong winds, and even rough tides.
Marked Safety: Living in a Flood Zone 
Areas that have a high likelihood of flooding around the year are marked as flood zones by the government and city councils around the globe. Living in a flood zone is different from other areas because you have to be vigilant about a flood hitting your area unexpectedly at any time. 
This is also why there are specific construction permits that people have to issue to build a house or a commercial facility. Depending on the country or city, the buildings, houses, or shops have to be built above a certain raised limit so they can protect the entrances and other aspects of their construction from water damage. The drainage system in a flood zone is also given extra care so that if a flood hits the inland of the city, the water has ample room to flush away.
Water Damage & Flood Restoration: Who Can Help?
Whether you are a landlord or a commercial business owner, having a contingency plan, especially in a flood zone, can be of immense help. Don't hesitate to reach out to 911 Restoration of Pittsburgh for flood damage restoration services. Their skilled team has years of experience in helping residential and commercial property owners restore their property back to its former glory.
If you have been hit by a flood and are experiencing water damage on your property, 911 Restoration is a great choice. Moreover, if you fear future floods, 911 Restoration and its skilled workers can also help you in preparing your property for oncoming water damage. This includes roof repair and waterproofing, which can help you save yourself and your property from any moisture and other types of flood damages.
911 Restoration offers several services that can be of use to people experiencing floods in their area. Even if you experience a storm or heavy rainfall, 911 Restoration experts can always be at your service for any water damage. Their goal is to rid your property of any moisture and can also offer you electrical and plumbing services to restore your building or house. 
Mold and mildew are a direct result of water damage which is another thing that 911 Restoration experts can take care of for you. With a 45-minute response time, 911 Restoration of Pittsburgh is always available for your service 24/7, 365 days a year. 
Book an appointment with 911 Restoration of Pittsburgh today!